---
I GOT SO MANY COMPLEMENTS!!
Purchasing these shes was one of the best experiences I've ever had when it comes to online shopping. Charis and Doxa has wonderful customer service and I will definitely be recommending their shoes to my friends and purchasing from them again.
LOVE THEM SO MUCH!
I have never gotten so many compliments on these shoes! Not only are they unique and stylish, they are very comfortable!
THEY STOLE THE SHOW!
I ordered these shoes for senior night! Let's just say they stole the show!
VERY HIGH QUALITY
These shoes are adorable and I get compliments every time I wear them! Very high quality as well.
Spirit
Bring the game even closer in shoes made with real football material, toe-box threads to match, and gold interior trim for a little pep in every step.
Comfort
Give your feet a reason to cheer in generous heel-to-toe padding for long-lasting comfort and support.
Style
The next time you get dressed up or go out for the night, make sure you bring these with you. They'll make every outfit look ten times more fun!
Customer Reviews
08/27/2021
Anonymous

United States
01/04/2020
Eva M.

United States
09/28/2019
Connie K.

United States
Absolutely obsessed with those!
Football and heels. My two favorite things and now they're combined! I have gotten so many compliments on these and plan to get the baseball heels next! I have worn heels to games at Lambeau and would wear these, but the game I'm going to is in November, probably Frozen Tundra time! :) My best friend took a cute pic of me wearing these at a winery-how do I send it to you?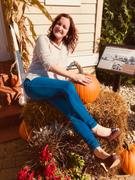 Beautiful shoes but
The shoes are beautiful. I ordered two pairs. Normally wear a size 9 in all us sizes. I ordered a size 9 in both pairs & surprisingly, both pairs of shoes were about a half size too big. I've ordered shoe inserts to help with the shoes being too big, but even with the additional heel pads in for shoes too large, it's just not the same as a good fitting heel! I have at least 65 pairs of high heels & wedges in us size 9. I have to say these are the first two pairs of heels & wedges I have ever had a sizing issue with. It's incredibly rare! Love the shoe design, but the fit is also so very important when it comes to comfort and being able to wear the shoes in public.
09/21/2021
Anonymous

United States
Fabulous!!!!!!…..GIVE HER 6!!!!
Incredible! ordering and payment was extremely easy, delivered swiftly and everyone at church went wild over my new football shoes!