---
Spirit
Now you can feel even closer to your favorite game in shoes made with real baseball material, red stitching that matches the curves of the ball, and a wood pattern wedge.
Comfort
Give your feet a reason to cheer in generous heel-to-toe padding for long-lasting comfort and support.
Style
The next time you get dressed up or go out for the night, make sure you bring these with you. They'll make every outfit look ten times more fun!
Customer Reviews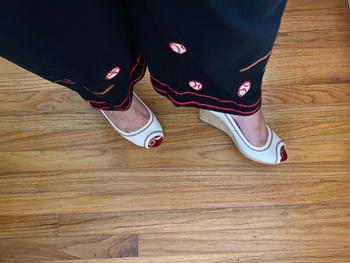 07/21/2021
So cute!
I love these! I used to wear white Keds with my baseball pants. Now I have the perfect kicks!
Donna M.

United States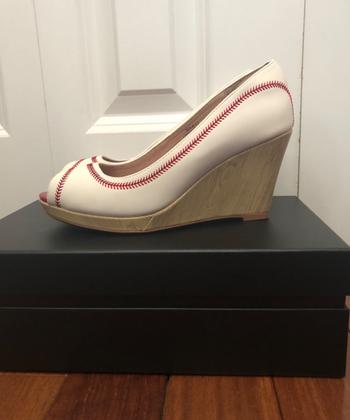 06/02/2019
Great shoes!
The shoes shipped next day, but unfortunately did not arrive in time for the event that I needed them for, due to the holiday weekend. I am keeping the shoes because they are so well made, and I'm sure I will find an occasion to wear them! Super comfortable, too!
Amy R.

United States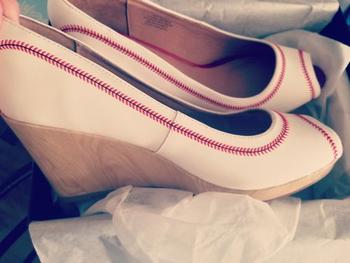 08/02/2018
I look forward to showing these off at some ball games this year!
Love these! I appreciate that I was warned that the wedges run a little big! I ordered half a size down and they still are a a little roomy! You can clearly tell the quality is very good. I look forward to showing these off at some ball games this year! Thanks again, I cant wait to see what other styles you come out with!
07/25/2021
Cute and comfortable!
These are so cute. I'm not sure if people realize they are baseballs, but I don't care because I do! They really comfortable (walked around downtown all night) and true to size. I'm a straight size 6 and these for perfect.
Betsey Z.

United States
07/16/2021
So cute and comfy
I haven't yet walked in them for long distances but just putting them on I can tell they are going to be pretty comfy. I have wide feet and so I'll know pretty quickly if something is not going to be a good fit and these were brilliant! Now I need some hockey flavored wedges......
Anonymous

United States
I GOT SO MANY COMPLEMENTS!!
Purchasing these shes was one of the best experiences I've ever had when it comes to online shopping. Charis and Doxa has wonderful customer service and I will definitely be recommending their shoes to my friends and purchasing from them again.
LOVE THEM SO MUCH!
I have never gotten so many compliments on these shoes! Not only are they unique and stylish, they are very comfortable!
THEY STOLE THE SHOW!
I ordered these shoes for senior night! Let's just say they stole the show!
VERY HIGH QUALITY
These shoes are adorable and I get compliments every time I wear them! Very high quality as well.